COMMISSIONS
Personal. Bespoke. Meaningful.
Commissioning a painting is an exciting step to owning a bespoke artwork made especially for you and your interior. The right art will not only add interest to a room or decoration to a wall, but it will bring a space truly to life.
My job is to interpret the brief and create something original and new. I do not re-create my previous paintings - I couldn't even if I tried because they all come into being as a result of an intuitive process of layering and exploration. This way, each work is unique with only you in mind.
The commissioning process:
We have an initial meeting to discuss ideas and preferences, size, colour palette and personal elements (if any) that you'd like me to interpret. Ideally this will take place in your home (or the ultimate location of the painting) but if you're not local to me, we can do this on a video call.
I'll send you a quote and, once agreed, a 50% deposit secures the commission.
Time scale is 3 months at a minimum but depends on the commission requirements.
Due to the way I work (paintings undergo many changes and are composed of a multitude of layers), I will not be showing you the painting until I feel it has sufficiently 'come together' to make visual sense. At this stage, we can either decide it is finished or I can make changes as required.
I am available for a limited number of commissions each year, and minimum sizes apply. Please contact me for a quote.
"Song Of Beginnings"
163x184cm commission to celebrate 25th wedding anniversary.
"We have just had the privilege and enjoyment of unwrapping our lovely painting 'Song of beginnings' – such an appropriate title, and such a wonderful outcome, it's just right for us and the location.  The colours are warm, the silver elegantly used and the composition so interesting and we'll NEVER bore of looking at it. Thank you so very much."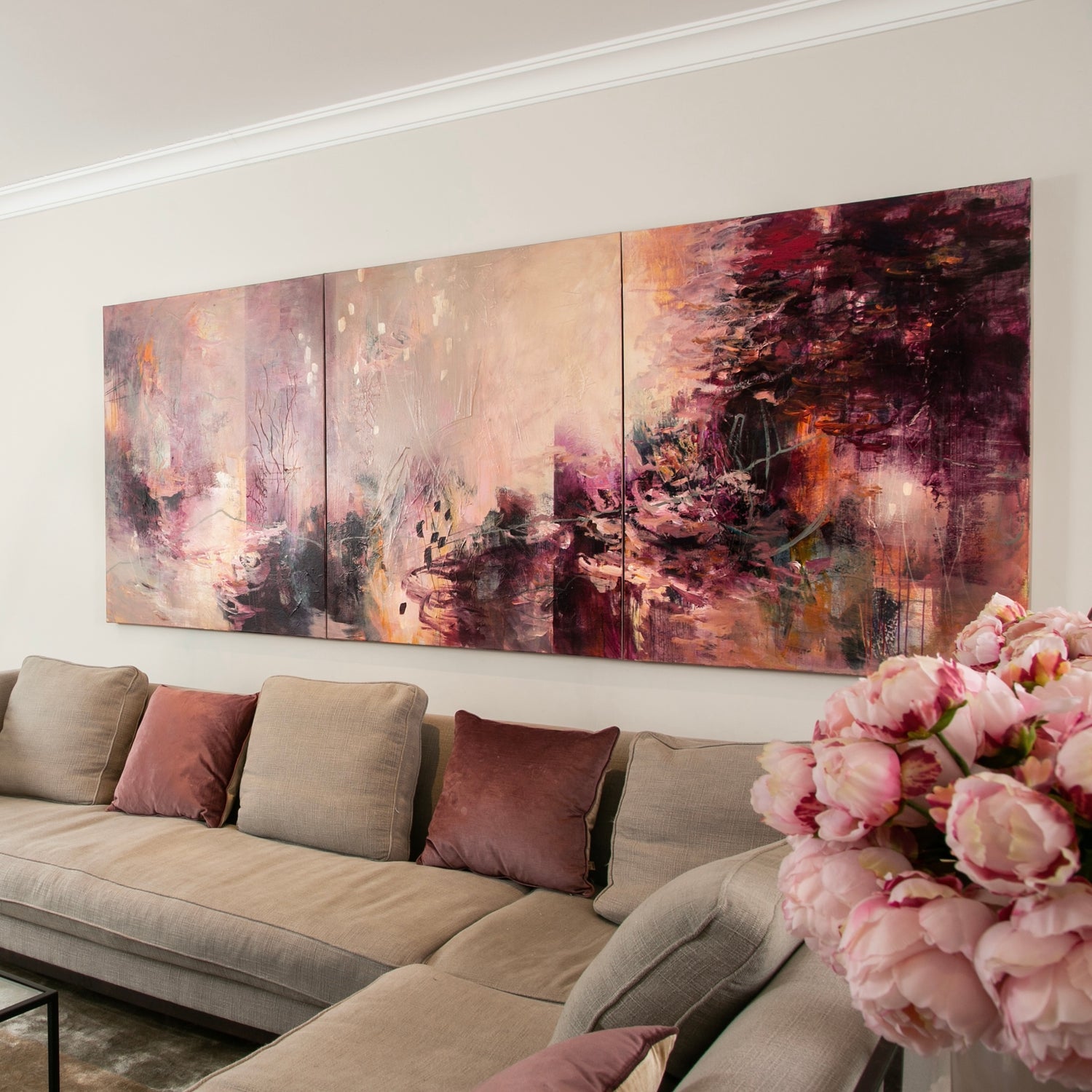 "Unknown Ballad"
120x300cm triptych commission
"It was an absolute pleasure having Kasia commission this wonderful painting 
It is a true work of art and captured everything I wanted, if not more.
The journey was magical and to have the finished work of art in my home is treasured."
"One Endless Day" and "Echoes of Summer"